Biography


Joachim Held is one of the foremost lute players of his generation. He captivates his audience with the refinement of his playing and moves the listener with expressing the different moods of the soul. In 2006 Joachim Held is the first lute player ever to receive the renowned German Echo - Klassik Award. This is in the category "Best soloist recording of the year" for his CD "Delightful Lute - Pleasure. Baroque Lute music from the lands of the Habsburgs", released by Hänssler Classic.
More


New Release
Johann Georg Weichenberger
Lautenwerke

Album's Audio Player


Release Date: 07.2022
Label: Hänssler Classic
ASIN: B09ZFNLBFV

Buy this CD: Amazon.com

Joachim Held has put together a program of four suites by Johann Georg Weichenberger (1676-1740). The little-known Graz composer was not a full-time musician. He was an employee of the Viennese court accountancy. Nevertheless, he is considered an influential lutenist in the Austro-Bohemian region in the early 18th century. Joachim Held has not only made an unknown repertoire accessible, but he once again lives up to his reputation as one of the best instrumentalists of our time. In his performance we admire the articulatory versatility and very variably executed dynamics. Beyond all elegance, beyond technical refinement, however, his playing captivates with sensitivity, richness of nuances, in short, with a high musicality.
Pizzicato - Remy Franck - 29.07.2022





Joachim Held got the appointment as a Professor for the Hochschule für Künste in Bremen/Germany. Students can register for the Bachelor and Master degree program.
www.hfk-bremen.de


Discography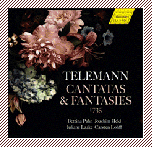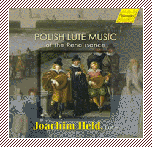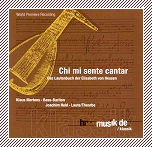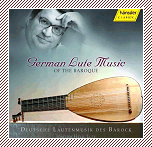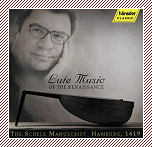 Concert Dates


12. January 2023
Bremen, Die Glocke
Guiseppe Zamponi "Ulisse, all´isola di Circe" Opera concert performance, Weser Renaissance, Conductor Manfred Cordes
13. January 2023
Wolfenbüttel, Lessing theatre
Guiseppe Zamponi "Ulisse, all´isola di Circe" Opera concert performance, Weser Renaissance, Conductor Manfred Cordes
2. February 2023
Köln, Philharmonic
Georg Friedrich Händel, "Belshazzar" Concerto Köln, Conductor Vaclav Luks
4. February 2023
Hannover, Radio Philharmonic
Georg Friedrich Händel, "Belshazzar" Concerto Köln, Conductor Vaclav Luks
12. February 2023
Bremen, Sendesaal
chamber music by Jobst vom Brandt and Georg Phillipp Telemann
with Bettina Pahn, soprano, Frauke Hess, viola da gamba
19./22./25./28. March 2023
Munich Bavarian State Opera
Francesco Cavalli, "La Calisto", Monteverdi ensemble, Conductor Christopher Moulds
7./9./11./13./16./18. May 2023
Munich Bavarian State Opera
Claudio Monteverdi "Il Ritorno d´Ulisse" Monteverdi ensemble, Conductor Christopher Moulds
29. May 2023
Torun, Dom
"Pax eterna"
Hanse ensemble, Conductor Manfred Cordes
3. June 2023
Bremen, Unser Lieben Frauen
"Pax eterna"
Hanse ensemble, Conductor Manfred Cordes
4. June 2023
Ganderkese, Kirche
"Pax eterna"
Hanse ensemble, Conductor Manfred Cordes
18./20./22./28./30. June 2023
Bremen, theatre Bremen
Claudio Monteverdi "L´Incoronazione di Poppea" Bremer Philharmoniker, Conductor Christoph Spering
2./6./8. July 2023
Bremen, theatre Bremen
Claudio Monteverdi "L´Incoronazione di Poppea" Bremer Philharmoniker, Conductor Christoph Spering
7. August 2023
Bertinoro (I)
"Musica al Tempo di Quantz" with Marco Brolli, Traversflöte
25. August 2023
Bremen, Sendesaal
""Transition" Chamber concert with jazz, early music and Turkish music
6. September 2023
Admont (A)
lute music by Johann Georg Weichenberger solo concert
12. November 2023
Brühl Castle concerts
"Bei Bach zuhause" with Bettina Pahn, soprano
17. December 2023
Mainz, Christ Church
Johann Sebastian Bach "Weihnachtsoratorium" Mainz baroque orchestra, Conductor Ralf Otto